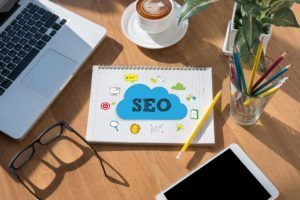 Social Power makes Search Engine Optimization work for your business. Show more customers who are in need of you and your reputable business or products offered through our effective SEO Tactics. We analyze your website as well as your competitors using industry keywords. We then come up with a game plan tailored to your specific needs employing our custom tactics that help more customers find you based on relevant search terms and keywords. We work to continually help your business rank in local listings generating more leads and exposure. We consider local relevance and building a consistent internet footprint a vital part of this process, including Social Media setup, seed content, and verifying current listings for information consistency.
Connector.

Keyword Analysis & Selection:

We analyze the search volumes on Google surrounding the keywords associated with your kind of business. A primary and secondary keyword matrix is established, and then serves as a foundation throughout your entire internet footprint.

Connector.

Website Optimization

We optimize both the visible and the unseen code in your website to insure it reflects the right keywords and search terms. This helps to make your website irresistible to Google, Bing & Yahoo while making sure it is also informative to customers & future clients!

Connector.

Google Analytics Setup

This valuable Google service is an important tool used to measure a variety of important metrics and helps us monitor our successes.
Connector.

Google Accounts Setup

Google Webmaster & Google Sitemap are other great resources we set up for you and employ to help insure Google integrates your website accurately, timely and efficiently into their databases.

Connector.

Internet Footprint Development

We place your business in various authoritative directories throughout the internet. These directories tell search engines that your website is important and verified.

Connector.

Internet Yellow Pages

We setup, establish accounts, and optimize your listing in various Internet Yellow Pages to help spread awareness of your business and offerings.

Connector.

Review Gathering

We help make it easy for you to get satisfied customers to share their experience. Reviews are an important part of search optimization, and will help grow your business.
Advanced SEO Services
Connector.

Organic Content Creation

Our team of technical writers can help develop and write SEO Rich Content that reads brilliantly for Search Engines and human eyes alike. This organic SEO tactic helps inform about your services as well as optimizes your web platform naturally.

Connector.

Social Media Integration

An active Social Media presence is also an effective tool in SEO. Our team of Social Media Community Managers will get your business set up on the relevant platforms and work to generate fresh and exciting content to grow engagement and activity on your accounts.

Connector.

Blog Writing

An active Blog presence on your website is what we consider SEO-Juice, relevant blog posts are a great way to reinforce your businesses search terms, keywords, and services/products offered.
Authentic organic Search Engine Optimization (SEO) is perhaps the most complex work we do here at Social Power. Your SEO project receives absolute white-hat techniques and strict adherence to industry guidelines. Our SEO experience dates back to the days of the very first search engines such as Excite, InfoGroup, AltaVista and others. Don't waste your time and resources with new players who are nothing more than phone solicitors who farm you out to cheap over-seas vendors, or with phone-book companies who are little more than AdWords resellers. Get real SEO right here at Social Power.
Get Started!