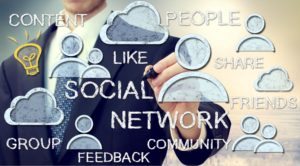 Get the Social Power Social Media setup service with optional community management for your businesses, professional practice or organization. Use our setup service to get all your social media spaces working properly. Social Power can grow and manage your communities by creating engaging content. Our social media experts take care of keeping your platforms active with relevant and engaging content.
Social Media Setup Services Include:
Connector.

Account Creation

We setup profiles for Facebook, Twitter, LinkedIn, Google+, Pinterest, YouTube, and Yelp, along with other spaces as we see relevant to your business.

Connector.

Branding & Graphics

Your social media spaces are made to represent your brand, and populated with your logo and images relevant to your business that will engage with people. If you don't have a brand, we can help you create one.

Connector.

Community Management Service

With this service our community managers grow and manage your social media communities on your behalf. While we encourage you and your staff to get involved, the reality is that most do not have the time or know-how to successfully build and manage their social media networks.

Connector.

Synergy, Strategy, Purpose

Social Power will manage your social media so that all the parts work together and enhance each other. Whether we promote an event or a new focus of business, we make sure it all fits together with purpose.
Connector.

Community Building

As your social media Community Manager, Social Power will build and grow your network of followers and engage with them in a professional and compelling manner. We call this community building.

Connector.

Reputation Management

Your social media spaces are constantly monitored for opportunities and issues. We will regularly keep you notified of whats happening.• Growing: It starts with publishing new and compelling information designed to educate and entertain people. We also help grow your networks by reaching out and engaging with your people, thereby effectively getting exposure with their networks too.

Connector.

Publishing

Social Power has experience writing and publishing for professionals like attorneys, chiropractors, dentists, optometrists and a variety of small business owners. Whatever your business or organization may be, if we don't have the talent in house we will recruit and train it on your behalf.

Connector.

Search Optimization

Search engines are now indexing social media, which means the size and behavior of your communities will affect how well your business ranks on Google, Bing and Yahoo, among others. We make sure your social media is integrated with your search optimization strategies.